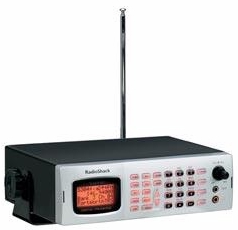 January 2005
The PRO-2096 is listed in Radio Shack's on-line catalog as part number 20-496 with a retail price of $499.99. You can see the catalog listing by clicking here.

September 2004
The PRO-2096, a base/mobile version of the handheld PRO-96, has received type acceptance from the FCC. It is not yet clear when it will be available for purchase. The FCC ID is ADV2000496. You should be able to see the GRE filing on the FCC website by clicking here.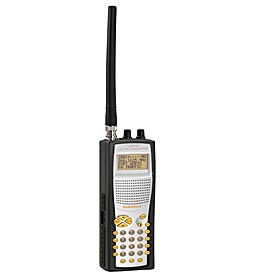 January 2004
Radio Shack has released a firmware upgrade to the PRO-96 scanner that allows it to properly track CQPSK (Compatible Quadrature Phase Shift Keying) LSM (Linear Simulcast Modulation) systems. The upgrade instructions and executable can be found on the Radio Shack software download page here. Look for the files for part number 200-0526.
September 2003
Radio Shack has released their PRO-96 scanner, which is capable of monitoring APCO 25 systems, including 9600-baud trunked networks. The unit comes pre-loaded with many of the current digital systems, making it easy-to-use right out of the box. List price is $499.99, part number 20-526.
In addition to APCO-25, the scanner tracks Motorola I, II, and hybrid systems as well as EDACS. It does not track LTR. It is not a full-coverage receiver; it covers 25-54, 108-136.9875, 137-174, 216.0025-225, 406-512, 806-960 (less cellular), and 1240-1300 MHz.
August 2001
In this article in the Denver Post, Radio Shack spokesperson Jill Lain is reported to have said that Radio Shack is also developing an add-on product that will decode APCO-25 transmissions. <!- Jill Lain Manager of Media Relations Phone: 817/415-2938 Mobile: 817/658-4444, Texas A&M University, BS '91 >
The latest rumor is that their scanner will be available around February 2003.
July 2005
The BCD396T handheld scanner is available for sale.
June 2004
An upgrade for the 296D is available on the Uniden Product Support Page. The upgrade reduces "birdies" in the 800-900 MHz range and improves the scanner's performance on some APCO-25 systems.
An upgrade for the 796D is also available on the Uniden Product Support Page. The upgrade addresses the same issues as the 296D upgrade.
November 2003
Uniden introduces two new digital scanners, the handheld BC296D and the base/mobile BC796D. These two units now include a digital decoder card (BCi96) and can follow 9600-baud systems.
January 2003
Uniden has released two scanners capable of monitoring APCO Project 25 systems.
The Bearcat BC250D is a handheld unit with all of the features and capabilities of the current production BC780XLT. The Bearcat BC785D is the base and/or mobile version with a similar feature set. Each scanner has 1,100 channels in 10 banks and covers a frequency range of 25 MHz to 1300MHz (with the usual cellular telephone frequency gaps).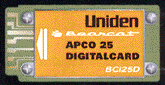 By themselves, the scanners will monitor conventional and trunked analog systems. The new feature on each of these scanners is a slot that will accept an external electronic "card." In order to process the P-25 transmissions, a BCi25D card must be inserted into the scanner.
October 2002
Various pre-release marketing materials seem to indicate the BC250D and BC785D scanners will correctly track systems with 3600 baud control channels but will not be able to trunk track 9600 baud systems. This means for the following systems audio will be available, but the scanner will not automatically follow the conversation if it changes radio frequencies:
State of Arizona
State of Colorado
State of Michigan
State of Minnesota
City of Minneapolis, Minnesota
Hennepin County, Minnesota
City of Austin, Texas
Henrico County, Virginia
September 2002
Uniden's two new APCO-25 capable scanners have received FCC type certification in September 2002, meaning it is legal to offer them for sale in the United States.
January 2002
At the Consumer Electronics Show in January 2002, Uniden announced the development of two APCO-25-capable scanners, the handheld BC250D and the base/mobile BC785D.
May 2001
Uniden is expecting to have an APCO-25 capable scanner available in mid to late 2002, according to an article in Mobile Radio Technology. Click here to see that article.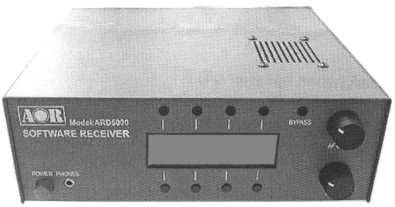 June 2004
The ARD25 is released for sale.

May 2004
AOR announces their ARD25 "Data Receiver," an add-on unit that decodes non-trunked APCO-25 transmissions from a 10.7 MHz IF output.

I wrote a review of this device that appeared in the September 2004 issue of Monitoring Times magazine. You can read the review here.

May 2002
At the 2002 HamVention in Dayton, AOR displayed a prototype of their ARD5000 APCO-25 decoder. It is a separate box that takes a 10.7 MHz IF feed from a receiver and produces audio and a digital data stream.

It is expected to in production by the end of 2002, with a target market of government agencies and the news media.